THE COTSWOLDS
The Cotswolds is one of the most 'quintessentially English' and unspoilt regions in the UK and is perfect for a short UK break. One cannot help but fall in love with its rolling hills, quaint villages, medieval towns, ancient woodlands, river valleys, water meadows and historic market towns. Words do not do justice to this amazing region of Outstanding Natural Beauty.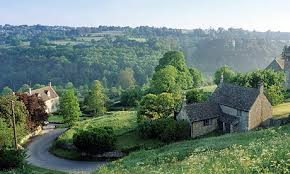 Throughout the Cotswolds luxurious accommodation are featured and they range from spa hotels, luxurious log houses, cottages and farmhouses. Throughout the Cotswolds stone features in buildings and stone walls seamless blend with the historic towns and villages with their surrounding landscape. The varied landscape of the Cotswolds offers a base for various activities such as golfing, fishing, walking, camping and caravanning. In short, a short break in the Cotswolds is truly refreshing.
YORKSHIRE
Yorkshire offers a richly diverse and unspoilt region covering miles of stunning countryside, a vast National Park, bustling cities and quaint market towns. The coastal region is not left behind as you can explore its scenic heritage or indulge in water sports in its sparkling waters.
Visit the tranquil Yorkshire National Park and marvel at the majestic scenery; indulge in adventurous activities in its renowned caves, potholes and labyrinth underground passages. Other activities in the park include cycling and walking. You can explore the dramatic coastline marveling at its towering headlands and sheltered coves. Enjoy luxury at the seaside resorts such as Scarborough and Whitley bay which offer great holidays, and are jam packed with luxury holiday homes to rent if you fancy a splurge.
WEST COAST OF SCOTLAND
The West Coast of Scotland is Scotland's most beautiful seaside featuring a mixture of rugged mountains and fjords, shimmering beaches, azure seas and enchanting islands. The bleak beauty of Skye is irresistible but places such as Dumfries and Galloway deserve some attention too as it offers sandy estuaries and picturesque towns. In Argyll the mountainous island of Mull wins the prize for sugary sands, shallow turquoise seas and a storybook forest complete with a castle. Nearby Oban comes complete with the best collection of self catering accommodation in the area. Ivernsshire boasts of unspoilt beaches, gleaming sands and blue seas.
The West Coast of Scotland offers numerous options for an ideal seaside short break with a range of accommodation; from classic lodges to magnificent lighthouses and large holiday homes.
DEVON
Devon is simply glorious; it is England's third largest county that is home to two national parks, Exmoor and Dartmoor and two distinctively different sections of the England coastline. The landscape is varied between tranquil and grandiose, from long sandy beaches to tiny coves with sleepy fishing villages tucked away at the back, from striking towering Tors up the moor to stunning lush vistas in the lowlands, from picturesque villages to lonely standing stones and majestic cathedrals. You will be amazed by Devon in every manner.
HAMPSHIRE
Hampshire is a place that you can never get bored, it is scattered with beautiful parks, woodlands, cultural events, interesting farmers markets and stunning coastline. It has an amazing variety of restaurants offering local cuisines, pubs and excellent accommodations ranging from B&BS, cottages, luxurious hotels and campsites. You can enjoy your short break playing golf, fishing and exploring the numerous towns, walks and farmers markets.