With the holiday season already upon us, a lot of travelers are finding even more reasons to toss back a cold one. Not only is drinking and partying a favorite pastime activity for the thirsty traveler, but with so many different holiday celebrations happening in different parts of the world, it becomes harder and harder to just say no!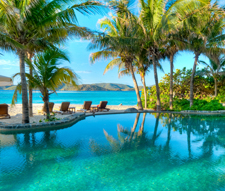 Okay, so maybe some people really enjoy visiting that inebriated state every once in a while. You're only going around one time, and there's nothing wrong with making the most of it. Finding a holiday party in some exotic locale is outright fun. No apologies necessary. However, you still have to be safe.
Finding yourself tipsy in some cold, dark back alley in a country where Obama and the Queen aren't coming to save you from the ensuing caning isn't much of a Christmas gift. So if you're going to be partying this year, remember to exercise some caution. Take a few moments to read some simple tips below on how you can stay safe while still partying.
Tips for Partying Abroad Over the Holidays
Try to Avoid Liquor
So, you're done checking for coupon codes, you've booked your flight, and now you're ready to par-tay with the wild inhabitants of some mysterious land. Hey, sounds great. Just remember that the adage "liquor is quicker" isn't a mantra you want to cling to while partying abroad. Quickly losing control of your faculties and becoming a bit unpredictable—trending toward violent!—isn't a good idea while on vacation. You can find some seriously stout brew to knock your socks off; you don't need to expedite the process.
Don't Challenge the Locals!
"So, mate; are you a man, or are you a bloody Sheila!?" Don't let the Aussies get to you. The same goes for any location you're visiting. Drunk people love to cling together and to challenge the outsiders. If you're traveling and happen to stop in on a great party, humbly let the locals remain king of their domain. Drinking games and national anthem competitions can turn sour in a second.
Beware of Foreign Substances
There's always someone at that party carrying a powdery substance, and it might not be the kind of snow you push a sled on. Loosening up with a few brews and enjoying your time is one thing. Getting blitzed out of your skull and bugging out on some legitimate drug is a great way to ensure that this holiday is your last.
Closely Guard Your Money
If you think walking down the streets of Rome is putting you in the line of fire of pickpockets, just wait until you're a few sheets to the wind trying to dance with some 8 (really a 3; c'mon!) in the club. You'll lose your wallet in a hurry. Guard your money and other valuables if you're going out. Bring only cash and keep the bills deep down in your pocket.
Have an Exit Strategy
There are two main reasons you need a proper exit strategy from the party you're attending. One: You're (hopefully) going to be too buzzed to navigate your surroundings via foot or public transport. And let's not even think about getting into a rental car! Two: You may run into some trouble and need to bolt! Have a plan ready to step outside of the party location, stand in a safe, unassuming place, and call a taxi there. Or find a ride beforehand to get you back safely.
There are plenty of ways to save money this holiday season on your vacation. You can
use coupons for Expedia
. You can find great discounts on hotels and airfare. You can save money by purchasing an entire package. Whatever the case may be, you can travel on the cheap. However, you can't put a price on staying safe. Make sure you use the tips above to stay out of dangerous situations while partying.