Hey there, fellow traveler! You know, New York City, fondly known as the Big Apple, is indeed a gem that lures globetrotters from every corner of the earth with its unmistakable charm. Towering skyscrapers, buzzing streets, immense parks, and vibrant cultures – it truly is a city that never sleeps.
Now, planning a trip to such a bustling metropolis might seem overwhelming at first, right? Especially when you're trying to condense it all into a short, 3-day trip. But fear not, my friend! That's exactly where a well-crafted itinerary comes in handy. Trust me, having navigated the countless alleys and avenues of NYC myself, I can't stress enough the importance of a good plan. It's like a compass in your hand that points the way amid the city's notorious whirlwind of excitement.
So, in this post, we're going to embark on a virtual journey, essentially a whirlwind tour of New York City in 72 hours. We'll kick things off in the heart of Manhattan, getting lost amongst the giants in Central Park, paying a visit to the insightful American Museum of Natural History, and turning into a bonafide city slicker on glitzy 5th Avenue.
And that's just day 1! We've also got a day planned dedicated to the bustling cultural hubs of the city, and another diving into its rich history. But don't worry, we've kept it flexible with alternate options suited to your tastes, be they art, food, or shopping. We'll sprinkle in tips for traveling around the city, suggestions on awesome places to eat, and even some well-kept secrets to make your journey unforgettable.
So, are you ready to explore New York City like a true urban explorer? Brew a cup of your favorite coffee, pull up a comfy chair, and let's dive into the adventure together. Three days might seem like a New York minute, but with the right plan, it's more than enough to create some lifelong travel memories! Buckle up, my friend—your ultimate NYC adventure awaits!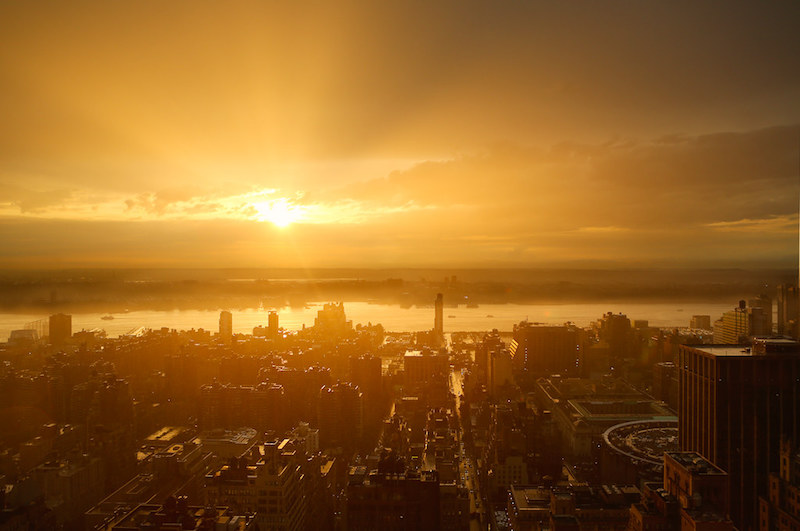 Day 1: Manhattan Magic
Morning: Start with Central Park
Ah, Central Park, the green heart of Manhattan! There's nothing quite like taking a leisurely morning stroll in this urban oasis. With its serene beauty and serendipitous encounters, Central Park is a treasure trove of unforgettable experiences. Just to give you a taste, here are some of the must-see spots within the park:
Bethesda Terrace and Fountain: A beautiful spot for people-watching, and did you know that it's also a popular location for film shoots?
The Great Lawn: An idyllic place for a picnic or to catch one of the many (sometimes impromptu) concerts that happen here.
Strawberry Fields: A living tribute to John Lennon, you'll often find fans gathered around the iconic "Imagine" mosaic.
The Bow Bridge: With its stunning views of the city skyline, it's a picturesque spot for a photo op!
Of course, there's so much more to discover, so feel free to explore at your own pace and see what hidden gems you stumble upon!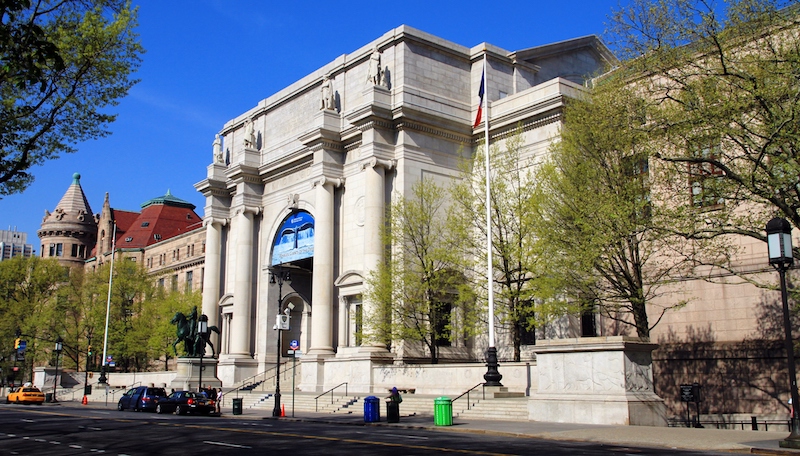 Mid-day: Visit the American Museum of Natural History
Once you've soaked up enough of Central Park's splendor, it's time to head over to the amazing American Museum of Natural History. Now, this place is huge, so it's essential to map out your visit beforehand. To help you make the most of your time here, consider these tips:
Buy tickets in advance: Skip the lines and start exploring right away!
Don't miss the highlights: The famous blue whale, the dinosaur fossils, and the Hayden Planetarium are just a few of the exhibits you won't want to miss.
Join a guided tour: The museum offers various themed tours that are both engaging and informative. It's a fantastic way to absorb all the incredible information on display.
Take breaks: With so much to see, remember to stop, grab a bite, and recharge at one of the museum's cafes.
Evening: Stroll down 5th Avenue
As daylight fades, there's no better place to mingle with the city's vibrant energy than on 5th Avenue. While you stroll down this famous street, make sure to soak in the ambiance and embrace the "New Yorker" within you. Here are some noteworthy landmarks and shopping opportunities:
Atlas Statue at Rockefeller Center: An iconic spot to snap a selfie and marvel at the architecture surrounding you.
Saks Fifth Avenue: Even if you're not in the mood to shop, it's worth wandering through this luxurious department store just for the experience.
St. Patrick's Cathedral: Its breathtaking Neo-Gothic architecture stands as a fascinating contrast amidst the modern skyline.
Bergdorf Goodman and Tiffany & Co.: Feast your eyes on exquisite fashion and dazzling jewelry.
As day one comes to an end, remember that this is just the beginning of your 3-day adventure in New York City. With days two and three still to come, there's no shortage of excitement and discovery waiting for you. So get some rest, and gear up for another unforgettable day in the Big Apple!
Day 2: Cultural Hotspots
Ready for your second day in the city that never sleeps? Buckle up, because today, we dive into a rich tapestry of art, culture, and world-class entertainment!
Morning: The High Line experience
The High Line, my friend, is no ordinary park. Think of it as a green thread stitching the cityscape together, elevated above the city's bustling streets. Sounds intriguing, right? Well, it was once a railway line that now blooms with life, from lush greenery to innovative art installations, all while offering breathtaking perspectives of NYC's unique architectural landscape.
As for the views, the wildflowers bobbing in the wind complement the soaring skylines whimsically, and the meandering pathway provides vantage points onto Hudson River moments that'll make your heart skip a beat. Remember to take a moment to perch on one of the numerous benches, take a sip from your coffee, and soak in the Manhattan mornings like the locals do.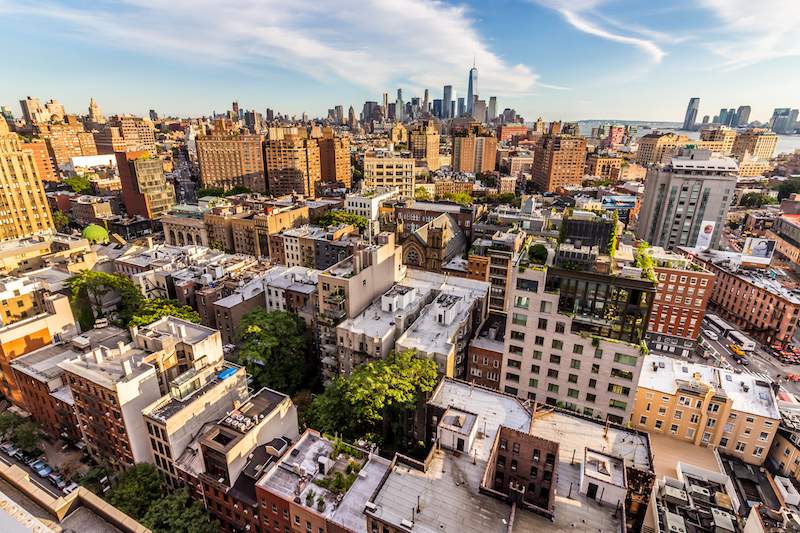 Mid-day: SoHo and Greenwich Village arts scene
Next, let's move onwards to the boho-chic neighborhoods of SoHo and Greenwich Village. Their cobblestone streets and cast-iron buildings are home to an eclectic arts scene. Here's a quick sneak peek:
Art Galleries: Both neighborhoods are peppered generously with galleries showcasing contemporary and avant-garde art. Some must-visits include the New Museum and Team Gallery.
Shopping: SoHo is a playground for all fashionistas out there. Explore well-known brands, intricate boutiques, and vintage stores, each with its unique aesthetic.
Cafés and Bakeries: Stop by Dominique Ansel Bakery. Sound familiar? It's the birthplace of the crispy, creamy wonder known as Cronut!
NYU and Washington Square Park: A walk around these iconic spots in Greenwich Village promises a slice of everyday NYC life that has its unique appeal.
Evening: Times Square's Ambiance
Come evening, the bright lights of Times Square beckon. Known as "The Crossroads of the World", it's a sensory assault in the best way possible. Colorful billboards, street performers, food vendors — it's an unforgettable symphony of sights, sounds, and scents.
Now, when it comes to dining, Times Square is a gastronomical paradise.
Carmine's Italian Restaurant: An NYC institution, the family-style servings of Italian goodness will leave you satiated!
OlliOlli: If you're a sushi aficionado, you can't miss this place.
And for the curtain call to your day, catch a Broadway show. You see, New York, Broadway, and magic — these words are as inseparable as coffee and mornings. Make sure you book in advance to get the best seats!
There you have it — your engaging, cultural, and diverse second day in the Big Apple. As the city's lights twinkle, know that Day 3 is coming up, loaded with more adventures, more experiences, or as Sinatra would put it, more New York. Sweet dreams!
3 Days in New York: Your Perfect Itinerary
Hey there, fellow traveler! If you've found your way to this page, then it's likely you're planning a trip to the Big Apple. And boy, do I have a treat for you! A suitcase full of insights from my own adventures and a 3-day itinerary that I think you'll absolutely love. So, are you ready to dive into the whirlwind that is New York City? Let's go!
Day 3: Historical Highlights
On the final day of your New York escapade, we're going to dive deep into the city's rich history. From sun up to sun down, it's going to be a day of delightful discovery, my friends.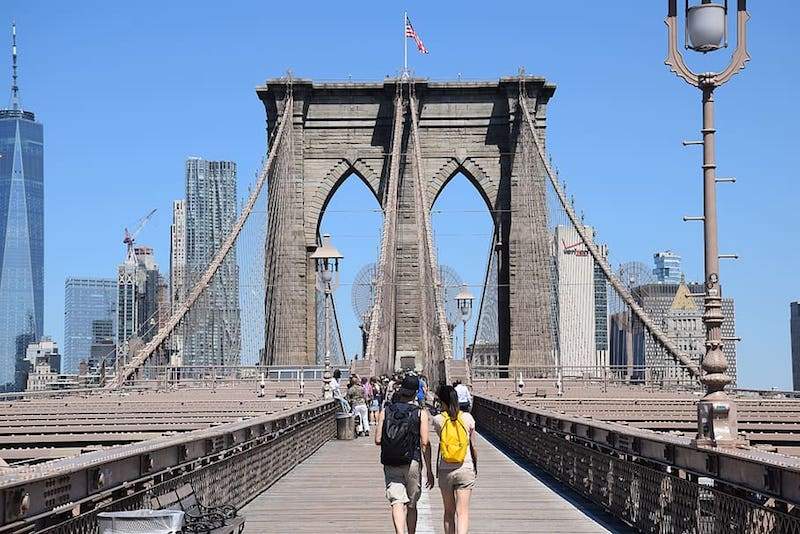 Morning: Walk the Brooklyn Bridge
Start off your day with a brisk walk across the Brooklyn Bridge. Trust me, nothing beats the feeling of crisp morning air as you tread the same path once occupied by immense carriages and tramways. After all, this iconic bridge, completed in 1883, was one of the world's first steel-wire suspension bridges and the longest of its kind at the time. What a way to get the blood pumping and the day started!
Mid-day: Financial District and the 9/11 Memorial
Next, we move onto the heartbeat of New York, the Financial District. It's a place of breathtaking skyscrapers, bustling streets, and history so rich you can almost reach out and touch it. Be sure not to miss Wall Street and the New York Stock Exchange, gleaming pillars of the world's economy.
The 9/11 Memorial is a must-visit, lending a moment of quiet reflection amid the city's hustle and bustle. The memorial's twin reflecting pools, marking where the Twin Towers once stood, are an emotional yet essential aspect of understanding this city's resilience.
Evening: Statue of Liberty and Ellis Island
As the day winds down, there's no better finale than the awe-inspiring sight of the Statue of Liberty basking in the glow of sunset. Book your ferry ride in advance for a hassle-free trip, and I recommend you aim to get there around twilight, with the city skyline as your backdrop. It's a view you'll remember, trust me!
Don't forget to hop off at Ellis Island too, once the golden gateway for millions of immigrants. The rich stories of people who dared to chase the American dream are sure to leave a lasting impression.
And with that, you'd cap off your 3-day New York adventure. Remember, the itinerary is just a launching pad – the real magic happens when you let your curiosity guide you. Here's to your own New York story. Happy exploring!
3 Days in New York: Alternative Itinerary Options
Hey there, fellow traveler! By now, you're probably brimming with excitement, ready to dive headfirst into the New York experience. But as we all know, no two travelers are alike. Maybe you're an art enthusiast, a food lover, or a shopping addict. If so, I've got something special lined up just for you. Here are some tweaks you can make to your itinerary based on what tickles your fancy!
For the Art Enthusiasts
If you've got an eye for the artistic, the city offers endless opportunities for immersion, exploration, and inspiration.
*Instead of walking the Brooklyn Bridge in Day 3's morning, consider exploring the treasure trove that is the Metropolitan Museum of Art. It houses over two million works spanning 5,000 years, with areas dedicated to Ancient Egypt, Impressionist paintings, and sleek modernist pieces!
*Replace the afternoon at SoHo and Greenwich Village on Day 2 with a visit to MoMA (Museum of Modern Art). From Van Gogh's Starry Night to Warhol's Campbell Soup Cans, it's an unforgettable visual feast.
*On Day 1, trade your visit to the Empire State Building for an intimate stroll around the Chelsea Art Galleries. Nestled in inconspicuous buildings, they are the pulse of the city's contemporary art scene.
For the Food Lovers
Raise your hand if you believe exploring a city means indulging in its local culinary delights, too.
*On Day 1 afternoon, ditch the Central Park picnic for aggressive munching around Smorgasburg, the largest open-air food market in America. With 100+ local vendors ranging from delectable BBQ to exotic tarts, it's a true haven for the food-obsessed!
*Day 2's dinner at Times Square can be passed over for an intimate Italian dinner at Carbone in Greenwich Village. Their Spicy Rigatoni Vodka is simply to die for!
*As an alternative to the Brooklyn Bridge walk on Day 3, why not embark on a gastronomic journey through the historic Bagel Bakeries of Lower East Side? Start your day the New York way!
For the Shopping Addicts
We can't forget those of you who can't resist the siren song of stylish steals and killer deals.
*Trade Day 1's Central Park picnic for an exhilarating shopping spree down Fifth Avenue, where high-end chains meet prestigious designer storefronts.
*Instead of the Financial District visit on Day 3, head to Canal Street for a taste of bargain bonanza. Despite its reputation, you can find some quality items if you look keenly.
*On Day 2, venture to Brooklyn Flea instead of High Line Park. From vintage clothes and furniture to unique handcrafted jewelry, it's a Must-Treasure-Island for thrift lovers.
Remember, it's your adventure, and you get to pick what matters most. New York is a city as diverse as its visitors. Regardless of your interests, there's always something fascinating just around the corner. Enjoy crafting your very own personalized journey through the city that never sleeps!
3 Days in New York: Essential Tips and Recommendations
Hey, adventurous friend! As you prepare for your 3-day escapade to the bustling streets of New York City, there are few more key points we should chat about. It's not just about where to go, but also how to navigate, what to pack, and where to unwind at the end of the day. Take a sip of that coffee, and let's dive in!
Practical Tips for Navigating NYC
Transportation Across the City
New York is a city that's always on the move, and with several transportation options, so can you!
The city's subway system is both convenient and efficient. Remember to pick up a MetroCard from any subway station for unlimited rides. Watch out for express trains denoted by green signs – they'll speed up your journey, skipping some stops.
Cabs are plentiful, though peak hours might require a bit of patience. Hailing a yellow cab is a quintessential New York experience!
Packing Essentials
The city's weather can be unpredictable, so here's my tip: layers are your best bet! Temperature swings are not uncommon, so having options can keep you comfortable throughout the day.
Always keep an umbrella handy. Flashes of rainfall are not a rarity in this city!
Staying Safe in NYC
New York is generally a safe city, but like any bustling metropolis, it's always good to be aware. Stick to well-lit, populated areas at night. Keep personal belongings close, and try not to flash expensive items around.
Accommodation and Dining Options
Rest Your Head Here
Depending on your budget and desired neighborhood vibe, Manhattan offers a range of hotels from budget-friendly to ultra-luxury.
Budget Picks: Try the clean and comfortable Pod 51 in Midtown East, or the trendy and affordable Jane Hotel in the bustling Meatpacking District.
Luxury Stays: For a splurge, The Plaza Hotel offers both opulence and an unbeatable location. Alternatively, The Greenwich Hotel in Tribeca provides a mix of luxury and downtown cool.
Delicious Dining Options
New York City is an international culinary hub with dining options to satisfy any palate, from mouthwatering street food to world-class fine dining.
*For a classic New York pizza experience, visit Grimaldi's under the Brooklyn Bridge.
*In the mood for delicious Asian cuisine? Check out Momofuku Noodle Bar in East Village.
*For a more upscale experience, Le Bernardin in Midtown offers exquisite French Seafood.
Remember, these are your three days in New York City, and no one else's. So stay safe, stay curious, and let the city's charm sweep you off your feet. It's time to embark on your own New York adventure. Bon Voyage!
3 Days in New York: A Trip Down Memory Lane and More
Hello, fellow traveler! Draw up a chair and let's delve deeper into the dynamic depths of 3 days in New York. We'll touch on everything from seasonal attractions to silver-screen favorites. Let's dive right in!
Special Events and Seasonal Attractions
New York, a city true to its ever-changing identity, is just as diverse in its seasonal offerings. Let's tick off a few:
Spring: Take part in the Cherry Blossom Festival at Brooklyn Botanic Garden.
Summer: Attend a Shakespeare in the Park performance, a staple of Central Park.
Fall: Marvel at the Village Halloween Parade, where creativity runs wild.
Winter: Don't miss the iconic Rockefeller Center Christmas tree!
Remember to check official websites for event dates and ticketing information. Also, get there early to secure a good spot!
Famous Movies and TV Shows Filming Locations
New York is a veritable backdrop for countless films and TV shows. Here are a few to catch:
Friends: Guzzle coffee at the Central Perk replica in Manhattan.
Sex and the City: Step into Carrie Bradshaw's world on Perry Street.
Spiderman: Swing by the New York Public Library, a key location in the movie.
Remember, these locations are often bustling with fans, so respect the property and the inhabitants!
Conclusion
We've ventured through museums, munched our way around food markets, strolled iconic streets, and even tiptoed around TV and movie locations. Our whirlwind 3 days in New York City have been nothing short of magic! So now it's your turn. Gear up, hit the streets, and create your very own New York moment. You'll carry these memories in your heart, long after you've returned home.
Additional Resources
Planning your trip is half the fun. Here are some resources to help:
Websites: Browse through NYCGO for comprehensive city information.
Apps: Download 'NYC Official Travel Guide' app for offline maps and personalized itineraries.
Comments
How was your New York experience? Any favorite spots or hidden gems you discovered? Do share your stories – there's nothing we love more than hearing about your adventures and learning from our fellow travelers!
Remember, it's not just about the places you see, but the memories you make. And in a city as vibrant as New York, those memories are waiting at every corner. So go out there and make them!