Ah, Nicaragua. Picture yourself sipping on a fresh coconut while digging your toes into warm, soft sand. The sun sets on the horizon, casting a golden glow on everything, as the sound of gentle waves embraces the shoreline. Sounds perfect, right? Well, I'm excited to let you in on a little secret: Nicaragua has some of the most breathtaking beaches I've ever visited, and I can't wait to share them with you.
Let me tell you a story: when I first set foot on a Nicaraguan beach, the natural beauty left me in awe. The vivid colors, the warmth of the people and the diverse landscapes immediately stole my heart. I knew then that I had to spread the word about this hidden gem. So, my friend, grab your favorite beach hat and a cup of coffee, as I take you on a journey to discover the best beaches in Nicaragua.
Now, you might be wondering, "Why Nicaragua?" and that's a fair question. The truth is, it's still an underrated destination. The pristine beaches, the unspoiled nature, and the rich culture – all of these factors make for an unforgettable adventure. And, those beaches – wait until you see them! From stunning secluded coves to vibrant social hotspots, Nicaragua has a beach for every type of traveler.
So, are you ready to take a virtual trip down Nicaragua's coastline? Hang tight, because we're about to embark on a guided tour to the best beaches this magnificent country has to offer. I promise you, by the time we reach the end of this blog post, you'll already have your bags packed and your tickets booked for the ultimate Nicaraguan beach getaway. Let the adventure begin!
Why Visit Nicaragua's Beaches
Alright, my fellow adventurers, let's address that big question on your mind: "Why should I visit the beaches in Nicaragua?" Well, let me tell you, if the idea of discovering diverse coastlines, soaking in the sun among friendly locals and contributing positively to a country's tourism doesn't excite you, I'm not sure what will! Are you as stoked as I am? Let's jump right in.
Unique Features and Attractions
First things first, the beaches in Nicaragua are one-of-a-kind. I still remember the first time I laid my eyes on Playa Maderas, just a couple of miles away from the town of San Juan del Sur. It's an immaculate stretch of coral-white sand that wraps around a turquoise sea which, on a good day, offers some of the best surf breaks. If you're not into surfing, don't worry. You can enjoy a Pina Colada while watching surfers ride the waves, allowing the rhythmic crashing of water to serenade you.
And the fun isn't just limited to daylight hours! Once the sun sets, many of these Nicaraguan beaches transform into social cosmopolitans as campfires ignite, drinks pour, and dance music echoes. Las Penitas, for example, is famous for its vibrant nightlife but by day? It's a serene haven of relaxation.
Here are some of the beaches you should definitely check out:
Playa Maderas: Known for surfing.
Las Penitas: Famous for its exciting nightlife.
Corn Island: Crystal clear waters and vibrant coral reefs.
Playa Majagual: Secluded and serene, it's perfect for a peaceful getaway.
Playa Hermosa: Aptly named "beautiful beach" in Spanish.
Playa Marsella: A hidden treasure off the beaten path.
The Significance to the Country's Tourism
Now, let's explore the significance of these remarkable beaches for Nicaragua's economy. Tourism plays a crucial role here. In fact, did you know that it accounts for approximately 6% of Nicaragua's GDP?
When you travel, you're not just enjoying a golden sunset on Playa Hermosa or relishing in the solitude of Playa Marsella; you're helping boost the local economy. Every dollar you spend benefits local businesses, contributes to the preservation of these natural treasures and enhances sustainable tourism. Plus, the warm smiles and heartfelt 'gracias' you receive from locals? Believe me, those moments are priceless!
So, aren't you eager to pack your bags? Remember, every journey you embark on has the potential to leave a positive imprint. Together, we can discover the wonders that the beaches in Nicaragua hold and contribute to the country's vibrant tourism. Let's help the world become a more connected and understanding place, one beach at a time!
Top Beaches in Nicaragua
So you've got your heart set on exploring Nicaragua's beaches, huh? You're in for a real treat! I've put together a list of my favorite beaches that I simply must share with you. Each one has its own personality and unique charm, so get ready to fall in love with these sandy paradises. Are you as excited as I am? Let's dive in!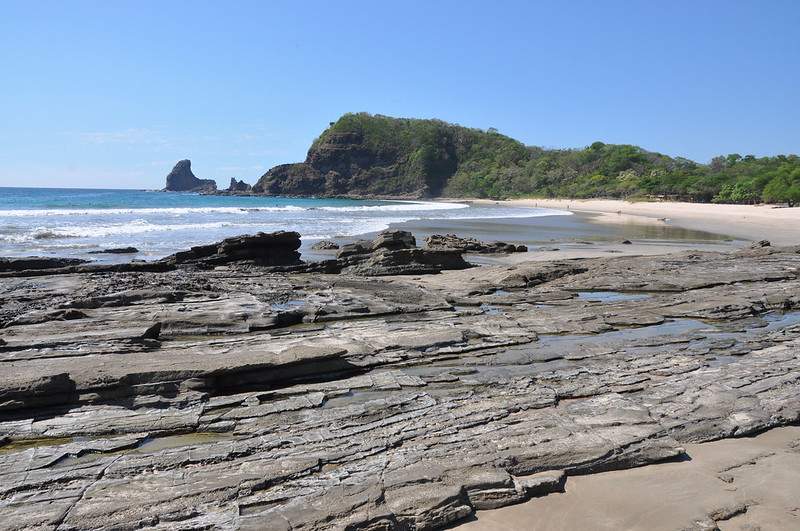 1. Playa Maderas
Just a stone's throw away from San Juan del Sur, Playa Maderas is a surfer's dream. The waves are consistently good, making it a popular hotspot for both beginners and pros. But worry not, non-surfers! Relax with a drink from a beachside bar, and enjoy the laid-back atmosphere and spectacular sunsets.
What makes it special?
Excellent surfing conditions
Relaxed atmosphere
Dramatic sunsets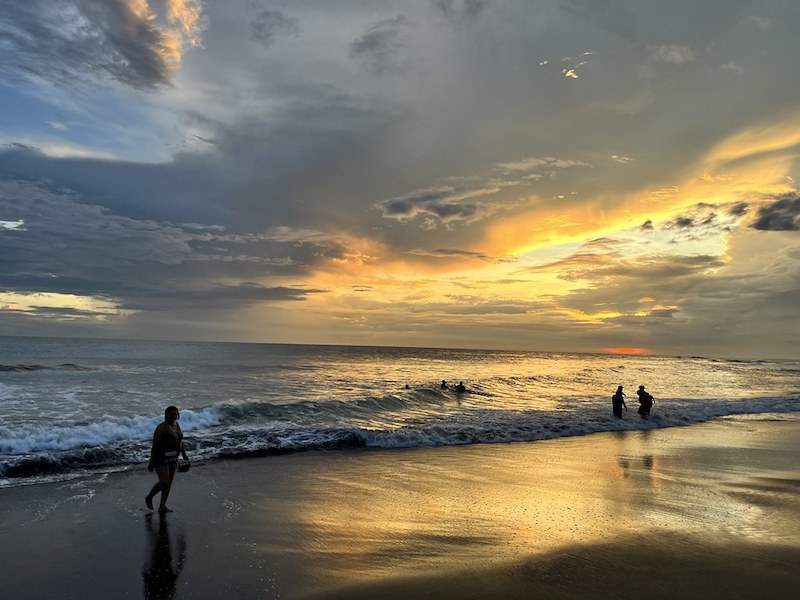 2. Las Penitas
Come for the calm beach vibes by day, stay for the vibrant nightlife once the sun dips below the horizon. Bars and restaurants line the shore, making Las Penitas the go-to spot for anyone craving some fun after basking in the sunshine.
What makes it special?
Livelier social scene
Scrumptious local dishes
Perfect combination of relaxation and entertainment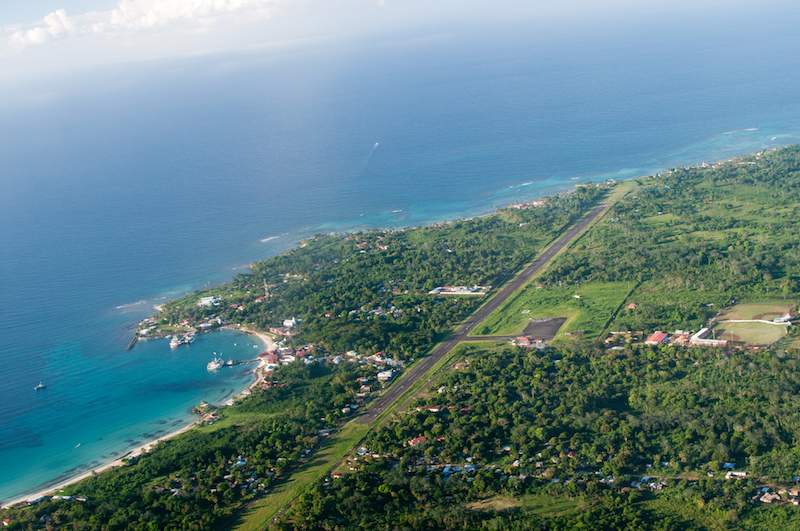 3. Corn Island
White sands and crystal-clear turquoise waters, be still my beating heart! Corn Island boasts some of the most picturesque beaches in Nicaragua. Snorkel or dive to discover vibrant coral reefs teeming with marine life – an underwater paradise awaits!
What makes it special?
Stunningly clear waters
Incredible snorkeling and diving opportunities
Serene, untouched beauty
4. Playa Majagual
Seeking a secluded escape? Say hello to Playa Majagual. This tranquil beach is not only breathtakingly beautiful, but also offers you the opportunity to truly disconnect from the world and unwind. Barely-there crowds? Check! Pristine surroundings? Absolutely.
What makes it special?
Peaceful and secluded
The perfect escape for privacy seekers
A real hidden gem
5. Playa Hermosa
Living up to its name, Playa Hermosa (translation: beautiful beach) will make your jaw drop with its textbook beach-pefection. Need I say more? Well, I will anyway – because this beach also has a turtle sanctuary, where you can witness sea turtles nesting or hatching during the right season. Incredible, right?
What makes it special?
Exquisite scenery
Home to an important sea turtle sanctuary
Combines conservation with beauty
6. Playa Marsella
Tucked away off the beaten path, Playa Marsella offers a rustic charm that I simply cannot resist. It's the kind of place where you can lose track of time, ambling along the unspoiled shoreline or swimming in its gentle waves. Pure bliss awaits.
What makes it special?
Secluded and untouched by commercialization
A haven for those who prefer a more low-key experience
Authentic Nicaraguan beach vibes
There you have it, my adventurous friend! These are, without a doubt, the top beaches you must visit in Nicaragua. Each one is special in its own way and holds memories that I will cherish forever. Now it's time for you to embark on your own journey and create unforgettable experiences of your own. So grab your sunscreen, pack your bags, and let Nicaragua's beaches sweep you off your feet!
Nicaragua's Beaches: Your Ultimate Travel Guide
Destination chosen, excitement on the rise, and bags almost packed – your adventure to the breathtakingly beautiful beaches of Nicaragua lies on the horizon. But wait a minute! How about we sit down, just as two friends would, swapping travel stories and helpful tips over a steaming cup of coffee? I've got a couple of handy hints that might help you make the most of your trip!
Travel Tips
Embrace the motto "less is more" while packing. Keep essentials like sunscreen, swimsuits, and beach towels, but remember, many goods are available locally too. Supporting local vendors gives you bonus points as a responsible traveler!
Up for exploring local cuisines? Try Gallo Pinto, a traditional Nicaraguan dish. It's delicious, trust me!
Don't forget to pack essentials like a water bottle, hat, and sunglasses to protect yourself from the tropical sun.
Best Time to Visit
You can enjoy Nicaragua's beaches year-round, but for optimal weather, the dry season (November through April) is your best bet. These months offer sun-drenched days perfect for beach lounging and wave riding! Just make sure to book accommodations in advance – it's a popular time for beach lovers like us.
How to Reach These Beaches
Nicaragua is well-connected by air with its primary international airport, Managua International Airport. From there, internal flights, buses, or even private taxis can get you to the beach towns, each resonating with its unique rhythm.
Playa Maderas and Playa Hermosa are only a short drive from San Juan del Sur.
Corn Island can be reached by a domestic flight from Managua.
Las Penitas is approximately 20 minutes from the city of Leon.
Playa Majagual and Playa Marsella are accessible via road from San Juan del Sur.
Safety and Travel Advisories
Nicaragua is generally safe for travelers, but standard precautions apply. Remember to:
Keep a vigilant eye on your belongings at the beach.
Check the current weather conditions before heading out for water activities.
Stay updated with local news and advisories.
Try to learn a few basic Spanish phrases – it'll help you connect with the local community!
There you have it, my curious companion – all the essential tips and tricks to navigate your way through Nicaragua's dazzling beaches. But remember, the best travel stories often unfold in the unplanned moments. So, keep an open mind, share a smile with the locals, soak in the sunsets, and let the waves sweep you off your feet. Nicaragua awaits your footprints in its sands!
Wrapping Up: The Charm of Nicaragua's Beaches
Just as we reach the bottom of our coffee cups, I feel the need to share one last piece of advice. Take it from a friend who's been there and done that — the beaches in Nicaragua are truly a slice of heaven worth experiencing. The distinct character of each beach, the stunning landscapes, the vibrant culture and the warm hospitality of locals create a mosaic of experiences that any beach enthusiast or adventurer would fall head-over-flip-flops for.
Whether you're a surfer catching waves at Playa Maderas, a snorkeler exploring the underwater world of Corn Island, or a wanderer basking in the quiet beauty of Playa Majagual, Nicaragua's beaches will capture your heart in ways unimaginable. They offer you not just a beautiful destination, but memories to cherish and stories to share.
So, why are Nicaragua's beaches a must-visit? It's simple. They offer a unique blend of natural beauty, adventure, tranquility, and cultural immersion that is hard to match. Add this gem to your travel bucket list, and let the magic of Nicaragua's sandy shores inspire your next adventure!
FAQs: Answering Your Queries About Nicaragua's Beaches
Q1: Is it safe to swim at the beaches in Nicaragua?
Yes, it is generally safe to swim at these beaches. However, as with any beach, it is advisable to be aware of current weather conditions and possible ocean currents for a safe swim.
Q2: Can I find easy accommodations near the beaches?
Definitely! Nicaragua offers a range of accommodations near its popular beaches – from luxury resorts to budget-friendly hostels. Just ensure you book ahead during peak seasons!
Q3: Are the beaches in Nicaragua crowded?
The crowd at Nicaragua's beaches varies. While some beaches like Playa Maderas draw a crowd due to their surfing conditions, others like Playa Majagual offer seclusion.
Q4: Are there any other activities apart from water sports at these beaches?
Absolutely! Beyond water sports, you can indulge in beachside dining, visit local markets, explore the jungle nearby, or simply chill under the palms with a book.
There you have it, the ins and outs of what promises to be an amazing beach vacation in beautiful Nicaragua. It's your turn now. Soak in those sunsets, ride the waves, and let these pristine beaches leave their footprints on your heart. Happy travels!