Are you a thrill seeker? Do you love taking part in activities that are full of adventure and get your adrenaline pumping? Then white water rafting will be something you don't want to skip. You get a great view of the area around you – all while you paddle through turbulent waters. It is an exciting way to have some fun. This activity is becoming more popular than ever. That's why this list is sure to help you pick the best place to experience the thrills.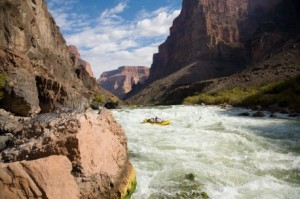 Colorado River, United States
If you're ready to experience the Grand Canyon in a totally new way, just take a trip down the Colorado River. It stretches on for nearly 226 miles. Plus, it doesn't just give you some fantastic rapids. It also includes hiking trails that lead up to ancient Indian ruins. You can experience excitement and a little history all at the same time. If you're planning to visit the United States, remember to submit your visum usa-ESTA (or ESTA application) prior to making travel arrangements.
Futaleufu River, Chile
For a white water rafting trip that is truly unique, head to Chile. The Futaleufu River is known for its extreme rafting, along with the permanent river camps. The camps are built into cliff dwellings and offer beds and hot showers. In addition to rafting, you can also go rock climbing or hike along the river.
The Rios Pacuare, Costa Rica
Costa Rica is often considered one of the best places to go white water rafting. Why? The rapid class levels range from II to V – which means that travellers of different skill levels can find a little adventure. While you experience the waves, you can also take in the incredible beauty and wildlife that Costa Rica has to offer. Some of the most popular rivers are the Rios Pacuare, Sarapiqui and Corobici. Take your pick!
Magpie River, Canada
Get ready to spend an action packed couple of days rafting down the Magpie River. This popular spot begins on Newfoundland's Labrador plateau and takes rafters through breathtaking pine forests. There are so many sections of river to tackle, that many travellers sleep under the stars before continuing on further down the river.
Zambezi River, Zimbabwe
You may not have ever thought about white water rafting in Zimbabwe. However, the Zambezi River is truly a spot to remember. Imagine rafting while you experience distinct African landscapes. With the sunny weather, you can camp out on the beaches and take in a little bit of wildlife, while you're at it. This is truly a place for adventure seekers to show off their skills.
Salmon River, United States
Bet you never thought that you'd be desperate to visit Idaho. With the Salmon River one of the most thrilling white water rafting destinations in the world, it might be worth the trip. The middle fork of this river is known for its 105 miles of rapids (300 rapids in total!). It is complete with lots of drops to really get your blood pumping.
It's easier than ever to find a little adventure. All it takes is a little planning and an awful lot of rapids. To take your own white water rafting vacation, head to one of these unforgettable locations.