Arguably no place in Europe knows how to put on a party quite like Greece, with its many holiday islands famed for offering the very best in sun, sea, sand and clubbing.
But, with so many resorts to choose from, it pays to do your research and find the right place for you, whether you want to catch a big-name DJ or fight a hangover while taking in some ancient history. Here are four of the best places to party in Greece.
Faliraki
Despite its compact size, the seaside village of Faliraki, located in the north-east of the island of Rhodes, has long-since established itself as one of the best places to let your hair down in Greece.
Above all, it is famous for its numerous bars and nightclubs, many of which attract high-profile DJs throughout the summer months, as well as for its cheap restaurants.
However, it's not just about loud music and cheap drinks. Faliraki is also home to the largest water park in the whole of Europe, while its family-friendly beach regularly wins top awards for its cleanliness. The resort is also a top spot for enjoying cheap holidays, with numerous good value hotels and self-catering accommodation options located in and around the village.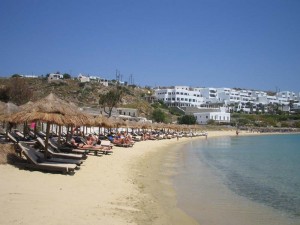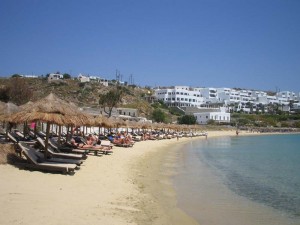 Psarrou Beach
The island of Mykonos is considered by many seasoned revellers as the number one party destination in the whole of Greece, and it's not hard to see why. Right across the island, bars and clubs attract visitors of all ages, as well as some of the most famous DJs on the whole planet, who pump out the tunes until sun comes up.
While some resorts may get overly crowded with tourists, Psarrou Beach is an ideal spot if you want a good mixture of locals and visitors. Here, you can enjoy Greek island hospitality at its finest, while lazing on the five-mile stretch of golden sand is perfect for recovering from the night before.
Psarrou Beach is also renowned for its top restaurants, while the boutiques and transport connections of Platy Gialos and Mykonos Town are just a few minutes away.
Malia
Crete may be known for its rich history, but it is the nightlife that draws the crowds to the small seaside town of Malia. The resort is home to a wide range of hotels to suit all budgets, while its restaurants, bars and nightclubs are packed from the middle of the afternoon right through to when the sun comes up the next morning.
Away from the vibrant nightlife, Malia also boasts one of Crete's top beaches and, if you do want to take a break from the partying and see a different side to the island, just a short stroll out of town will take you to the ruins of an ancient Minoan palace.
Zante
While in the past revellers may have headed to Kos or Corfu, now it is Zante that is emerging as the top place for fun-filled holidays to Greece.
The island, which is widely regarded as the most naturally-beautiful of all the Ionian Islands, is famed for its late-night decadence. Indeed, many of the numerous clubs found in Zante's compact, historic centre don't open their doors until after midnight. When they do, revellers are often greeted by international superstar DJs, who then spin tunes until dawn.
Aside from its vibrant bar and club scene, the main town of Zante is also home to a number of historic gems, many of them dating back to the time the island was under Venetian rule.
To find out which resort is best for you, and for more information on Greece, click here.