If for you holidays are all about dining out in style, go to Dubai. This city is without doubt one of the world's most luxurious destinations, and it's almost as famous for its impressive restaurants as it is its lavish hotels. Personally, I think to really make the most of your dining experiences here, you should visit at least one of the eateries with amazing views, since some of the top restaurants boast amazing locations that are as memorable as the food itself.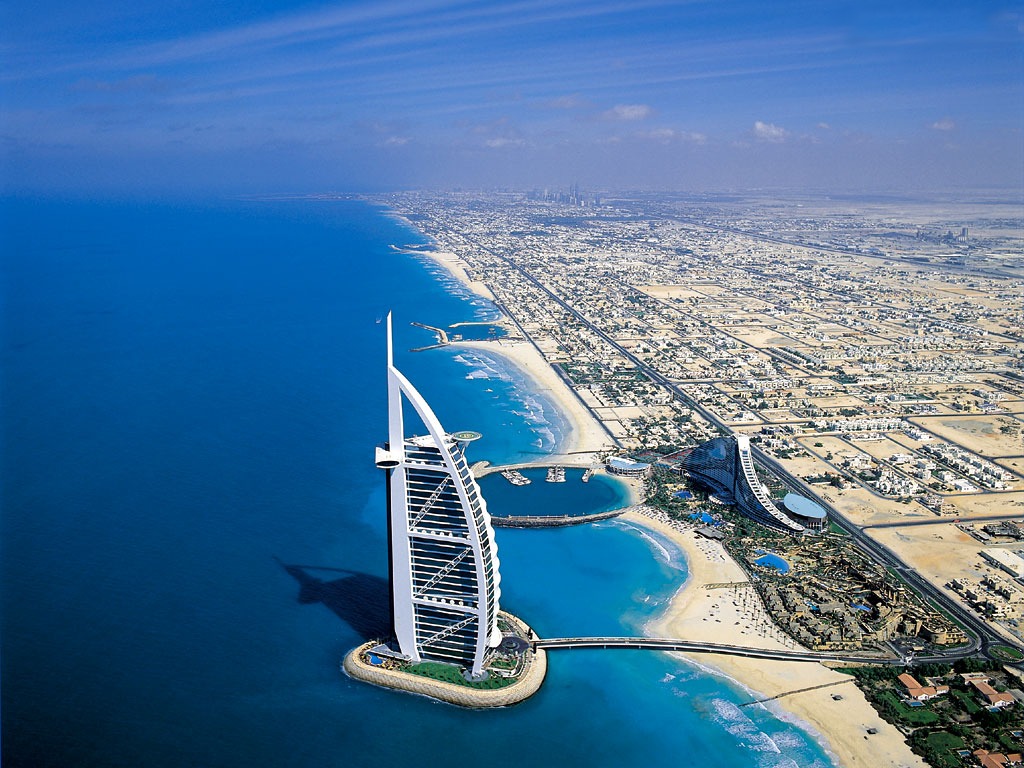 Atmosphere.
Where: Burj Khalifa
As you may know, the Burj Khalifa is the world's tallest building. At.mosphere, meanwhile, is the world's highest restaurant – something that automatically makes it a top place to visit during your holiday.
Perched on floor 122, the restaurant (unsurprisingly!) offers some staggering views over the Arabian Gulf. Of course, you're going to be interested in more than the location; so, what's the food like?
The menu here has a reputation for being relatively small, but the cuisine is no less delicious for it. Steaks are some of the most popular dishes, thanks to the impressive cuts available, but there are also some great fish courses.
You can also get high tea here or, if you just fancy having a drink and admiring the view, you can relax in the lounge. Whichever you go for, brace yourself for a pretty high price tag!
Al Dawaar
Where: Hyatt Regency Dubai
The city's only revolving restaurant, Al Dawaar is an obvious choice if you're looking for a restaurant with great views over the city and the gulf. It's also a particularly good place to pick if you're not sure what kind of food you fancy, or if the people in your group have quite different tastes, since it's an international buffet, rather than somewhere that offers one type of cuisine.
So, you can try Middle Eastern, Asian, Japanese and European cuisine, which should just about keep everyone happy! Another nice thing about this place is that it's got a cosy atmosphere – despite the decor being quite minimalist – so it's a safe bet for both fun nights out and more intimate meals.
101 Dining Lounge and Bar
Where: The Palm (Jumeirah)
Situated on the crescent of the manmade island the Palm at Jumeriah, the 101 Dining Lounge and Bar has pride of place on a private harbour owned by the One&Only resort – something that means you get to enjoy the exciting experience of arriving here by boat!
A very fashionable venue, its menu includes Mediterranean-style dishes and a decent selection of tapas, including cod croquettes, deep-fried potatoes, Spanish omelette, meatballs and more. It also has a tempting range of desserts, such as churros and chocolate sauce, and chilled strawberry soup, so it's a great place if you've got a bit of a sweet tooth.
Bateaux Dubai
Where: The Creek
If you fancy having changing scenery to admire while you eat, a dinner cruise is likely to be the best option for you. Bateaux Dubai will take you on a scenic journey along the Creek, which is particularly lovely in the evenings when the metropolis is all lit up.
As well as offering lunch and dinner, this restaurant also serves up high tea, which just gives you that little bit of extra flexibility when choosing where to dine each day – there are a lot of tempting eateries to fit in, after all!