How do you measure the success of a holiday with all members of the family? When your children leave the holiday destination with a heavy heart, feeling the holidays had lasted a few more days, your spouse echoing the children's desire, then, the family holiday is said to be complete. For this to happen, you should choose an experienced holidaymaker who can assure you an all-round family activity holiday during your entire stay. Even if you extend your one week vacation by one more week, your holidaymaker should be able to engage all the members of the family with many more outdoor activities.
This kind of family activity is possible on an island such as Bali or in a hill station such as the French Alps. Holiday organizers have equipped themselves by providing more and more outdoor activities for all the age groups. New family activities are being invented and implemented.
This is a great opportunity for the kids to learn a new sport and for the teenagers to pick up new friends.
Let us look at some of the exciting activities for the family members in the French Alps.
• Mountain Biking for the kids
This is such an adventurous sport for kids that they may even forego other activities and spend more time exploring the biking trails and enjoying the jungle scene. They may learn something new about trees, forest insects, and even wildlife while they race around in mountain bikes. Parents can see happy and beaming faces of their children when they reluctantly handover the bikes.
• Kayaking
Normally, even adults might not be interested in taking a kayak in a still water body such as a lake. However, the children would scream with delight when you allow them to enter the water in a kayak. They would be encouraged by other kids of their age group, kayaking happily in the company of an elder.
• Rock climbing and abseiling.
I would say this is a unique fun activity that is rarely seen in other holiday destinations. This is an adventure sport for both the children and adults. If a child is challenged, he/she would go to any extent to show courage by participating in an adventure. Rock climbing as one of the family activities is a thoughtful addition by this holidaymaker. Adults can also try 'abseiling' by which you can climb down from a cliff with the help of a rope. That would be a 'filmy' experience that you can boast of!
• Ride on a chairlift.
Riding on an open chair lift to go up on the mountain for spectacular views or to enjoy a relaxed tea is an exhilarating experience. These gondolas would take you to a higher altitude and you can spend the time exploring the mountain on foot and return to the base.
• Quad Biking
Tell me, in how many holiday destinations you have been offered quad biking? I am sure you would say 'none'. Even if the answer is yes, it might have been offered to children. This is an electrifying activity that everyone would enjoy. After a small training, you can strap yourself on a quad bike (All Terrain Vehicle) and go on a pre-planned trail. The children would be eager to exercise their courage and in the process, learn a new skill.
• MountainBoarding
I am listing the activities that are not offered in most of the mountain holiday destinations. Mountainboarding is similar to snowboarding wherein you mount on a small platform that is fitted with four wheels. See the image below: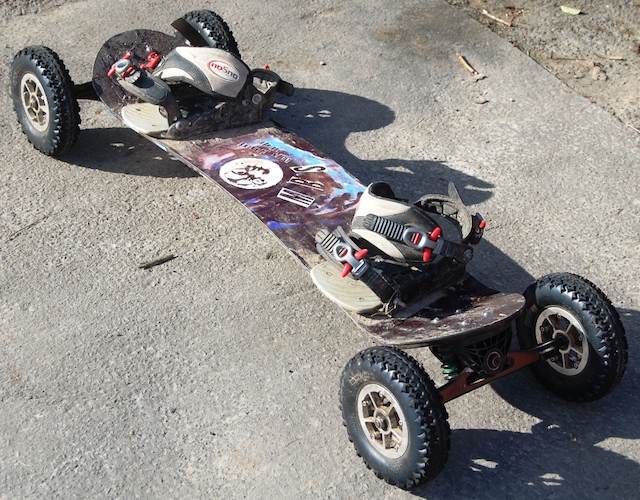 You can strap your legs on the device and go riding on the mountain meadows with the help of a few steering gears. Just like the people who enjoy skating on a hard-floor, you can enjoy mountain boarding too. You as well as your children can learn this new sport.
• Riding a Luge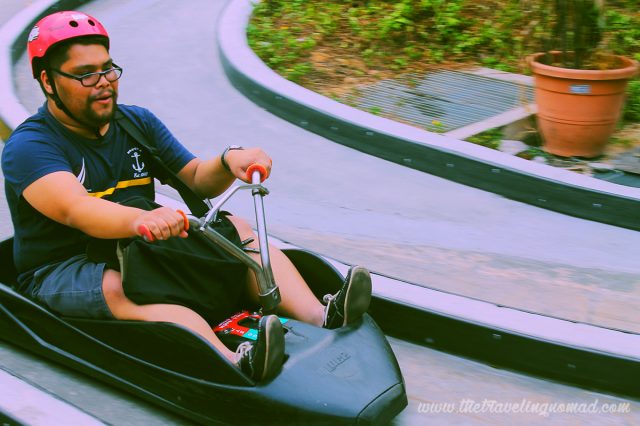 A luge is a very small car-like vehicle with four wheels. The rider is called a 'luger'. I would call it a 'sledge'. You have to literally insert yourself in it. Then, you are pushed by an instructor. The sled then goes down the sloping track. In between the ride, if you want to stop, you can use the hand-brake.
• Blob Jumping
You as a 'jumper' go up and take a position on a diving board. You then jump and land on a big air cushion that is placed on the edge of a lake. The person sitting on the air cushion eagerly awaits your landing on it. As you do that, the person sitting on the air cushion is thrown up high on the air and lands in the water with a great splash. Oh, I think this is a sport that is not for all but you can watch others playing it and experience the excitement vicariously.
Watch this video of Blob Jumping:
Well, those are just samples of various family activities in the French Alps. Other unique outdoor activities that are available for a family activity holiday are:
Giant water slide
Flyboarding
Walking on water
Trampolines
Zip Lining
Tow Surfing
Horse riding
Oh, there are many more fun activities in the French Alps that are guaranteed to make your family holiday the most memorable one and would surely make your children demand a return to the same destination to take part in all those missed out adventure sports.