Dublin is often perceived as one of the more expensive cities to visit, with bars, clubs and tourist traps all taking their toll on your bank balance.
But surprisingly enough, there is actually plenty to see and do when you want to visit the Irish capital on a shoestring.
Here is our quick guide to enjoying the beautiful city on a budget.
Stay
When you are just taking a couple of days out to visit the city, you will not have to worry too much about your accommodation because it is likely you will be out and about for most of the day. In order to spend your euros on the more important stuff, choose a cheap bed and breakfast or hostel to stay in and conserve your money.
There are scores of cheap hotels and guest rooms located around Gardiner Street Lower, which is only a few minutes' walk from the majestic Spire of Dublin, a vast stainless steel monument that can be spotted from almost anywhere in the city. This will give you a helpful location point when you've sampled a few too many Guinnesses and need to find your accommodation.
If you would prefer to stay outside the hustle and bustle of the city centre, take a look at price comparison sites to find hotels on the outskirts for similar prices. You can then hire a car in Dublin to get yourself in and out of the capital quickly and conveniently.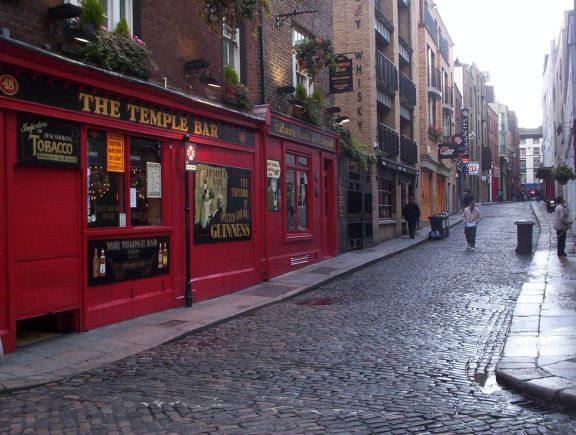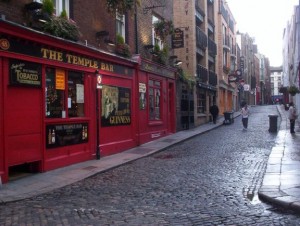 Eat
While the Temple area of Dublin packs the largest volume of eateries and watering holes, it can also be expensive to dine there. Seek smaller restaurants just off of the main streets and look for places that serve up hearty Irish fare. The Brick Alley Café on East Essex Street in Temple Bar specialises in home-cooked stews and light bites for around six to eight euros – and its fried Irish breakfast is not to be missed.
Drink
A trip to Dublin is not complete without a snifter or two. It goes without saying that you must visit the Guinness Storehouse and sup on a free pint of the Black Stuff while looking over the gorgeous 360-degree views of the city (tickets can be booked online with a ten per cent discount), but how can you enjoy a night out on the cheap? Try Copper Face Jacks for a fully stocked bar, great music and sometimes even live bands.
The Shakespeare on Parnell Street is another good-value-for-money pub, plus there's entertainment in the form of a jukebox and live music.
Do
You must visit St Patrick's Cathedral when you are in Dublin – the beautiful venue is free to wander around and is build adjacent to the well in which the saint himself was said to have baptised new converts.
Dunlin Castle is another stunning work of architecture, but if you don't wish to pay for entry you can still enjoy the Dubh Linn Gardens located behind it. This is where the dubh linn, or dark pool, sprang from, which is how the city got its name.
Finally, don't leave the city without taking a walk around the grounds of Trinity College. There are a number of statures and works of art to admire, and in the spring the gardens come alive with the scent and colour of flowers.