Stuck for ideas to do this winter but are in desperate need of a family vacation? Why not head to Lapland for a holiday you aren't soon to forget! With everyone else heading to the tropics or staying inside this winter, break against the typical and embrace the winter in all its glory. Located in one of the most rugged and isolated terrains in the world,
Finding something everyone in the family will enjoy isn't easy any time of year, but resist the temptation to hibernate in front of technology this winter. If you live in a place that doesn't get snow but instead gets cold and wet, a Lapland winter may come as a surprise to you, so much so that knowing what there is to do may be a mystery. Thankfully, there are organizations that deal specifically with this kind of travel, bringing people into the cold with open arms in the most exciting ways possible. For some suggestions for your brood this winter, see family trips here – and take a look below at some of the ways we recommend you spend your winter holiday:
Snowshoeing 
It might look silly to anyone who hasn't seen it before, but snowshoeing is an incredibly useful way to get around in the snow without sinking through the top layer. Get your family a set of snowshoes and go out on a nature hike into the spots otherwise inaccessible for some fresh air, exercise and enjoyment of nature.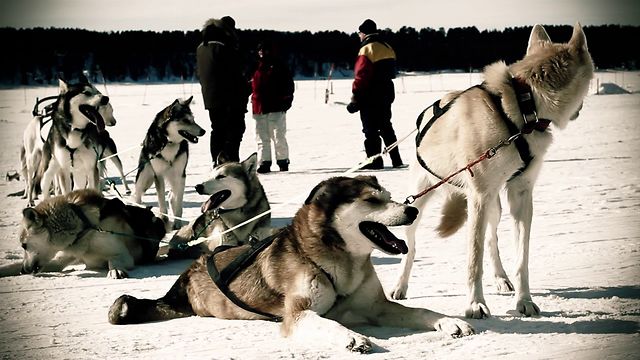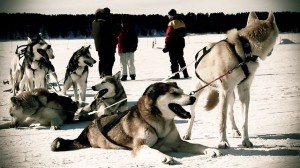 Dog Sledding
With a team of dogs leading the way, you can cross great sections of Lapland and experience part of the local Sami people's traditional way of life. Similar to using a team of horses further south, dogs are still incredibly effective in the harsh winters for getting around – plus the dogs are incredibly beautiful beasts!
Snowmobiling
Blasting across Lapland on a snowmobile is the ultimate demonstration of speed and power, making for an exhilarating adventure on your holiday. While young children should ride with an adult, the sleds are a great day trip idea to see some of the country independently or as part of a tour package with a guide.
Northern Lights Gazing
It's hard not to be impressed by the dancing lights of the Aurora Borealis and there are few places as perfect to enjoy this spectacle than in Lapland. Best viewed in the winter due to the tilt of the Earth and solar activity, the light shows aren't guaranteed due to cloud cover and other atmospheric conditions, but the chances are still high you'll witness them on your Lapland odyssey. It's something you and your family won't soon forget.